KMI Receives LANXESS MPP Excellence in Sales Award
Kohl Marketing, Inc. has received the LANXESS Material Protection Products award for sales excellence in 2017.  The announcement came during Kohl Marketing's Winter Sales Meeting, held last month in Alpharetta, GA.
LANXESS Material Protection Products is a worldwide leading manufacturer of biocidal active ingredients and formulations. LANXESS MPP offers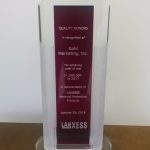 a wide range of products useful in many different applications such as paint and varnish preservation, wood protection, disinfection, and many other industrial applications.